Crazy Color is a bright, bold, loud hair color that's perfect for women who want a bold statement. Mix and match colors to create your perfect hair texture — from soft strands to crazy coils. It contains dye and a special micro gel that keeps hair nourished without risking frizz. Pick a color that's more subtle than your everyday color or one that's vibrant and scary-funky but still work with your skin care routine.
Review of Crazy Color Vermillion Red Semi-Permanent Dye
I have used this product for over 10 years and it does not damage my hair. It is a great product for covering my grey hair. I can use any shampoo and conditioner of my choice after applying the color. My hairdresser says it does not damage my hair as regular hair color would do. – Hannah Doyle
I love this color so much! It's great for my hair because it is a permanent dye. I have thick, coarse, curly hair and this works well with my hair type. I used the color to dye my hair red and it turned out true to the color on the box. If you have any questions about the product just ask and I will answer them as best as I can. – Melissa Oliver
My favorite color is red, and I've been a huge fan of Crazy Color for years. I love the color I get with this product, and unlike other semi-permanent hair colors I've used in the past, this product does not damage my hair or make it feel brittle. My hair has never felt healthier! – Amy Vaughan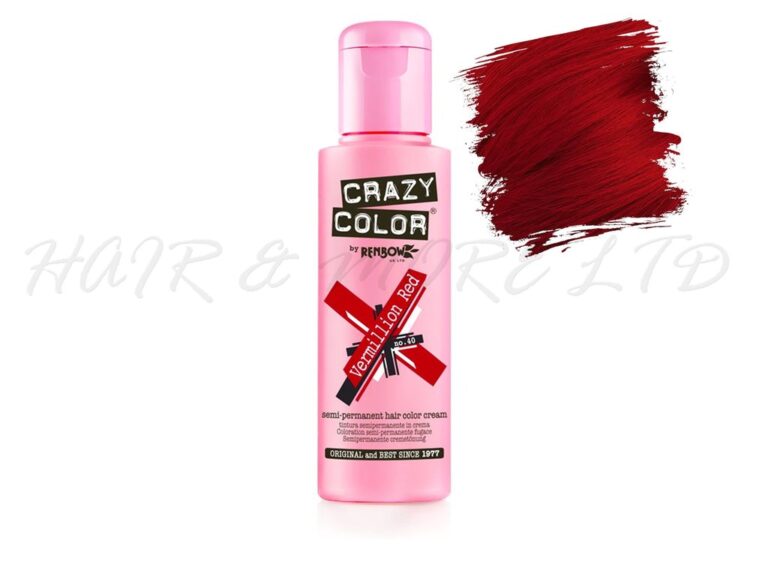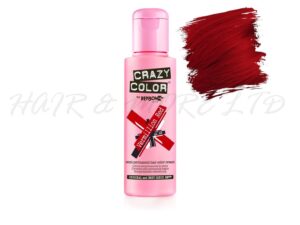 Product Description
Crazy Color is a semi-permanent hair color that is ideal if you are looking for temporary color, without the commitment of a permanent dye. It does not require the addition of peroxide. It comes in a variety of stylin' shades that you will love to show off. Specialty shop tested on hair wefts for 14 days, and washes out with shampoo after 48 hours. For optimal results apply to pre-lightened hair. Crazy Color does not lighten hair as it contains no peroxide.
Crazy Color is rich in pigment, giving a deep color saturation with a smooth consistency, making it the perfect product for creative colouring. The dye is ammonia free and has been specially formulated to ensure safe application.
Features
1. Deep and rich
2. Intense colour saturation
3. Creates a depth of colour with red undertones
4. Lasts up to 8 weeks (when pre-lightened)
5. Suitable for light to dark blonde hair
How to Use
1. Pre-wash your hair with shampoo and conditioner to remove any oil and products from your hair.
2. Apply the color onto clean, towel-dried, dry hair.
3. Process for 30 minutes before rinsing off the dye with warm water.
4. Wash out the dye with a clarifying shampoo to remove any unwanted coloration and product buildup from the hair.
5. Style as usual once your hair has dried.