You grew up watching romantic movies where weddings were the main event and you've dreamed of your own wedding day ever since. In the meantime, you've gone to your fair share of wedding ceremonies and receptions, and taken notes on everything you love as much as everything you'll avoid. Maybe attending so many weddings has put a little bit of a damper on your dreams of an elaborate ceremony and you're leaning towards something small and simple for your own big day. Or maybe all those weddings have fueled the wedding fire and you're going to have the biggest bash of the year.
Regardless of your plans for your wedding, the time has come. Now it's your turn to be the bride. The first thing that crossed your mind after you accepted your fiance's proposal was probably something to do with finding your perfect wedding dress. You can admit it; the dress is at the forefront of every romantic wedding movie, and every real life wedding as well. The dress you choose says a lot about who you are as a bride. So when you're ready to start looking at dresses, the question you have to ask is: What kind of bride do I want to be?
We'll help you figure out that pressing question by creating a few types of brides based on the dresses they're wearing. Keep an eye out for which personas make you say, I do (see myself in that dress).
The Florina Bride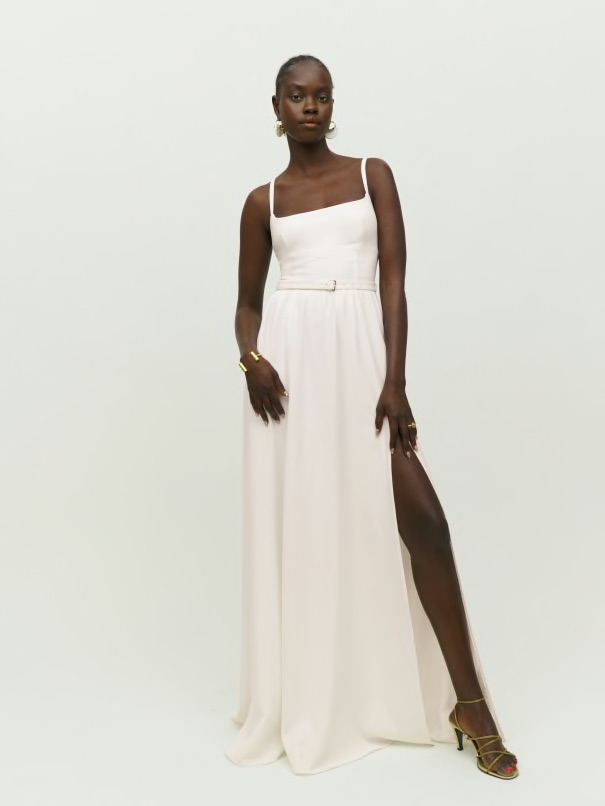 You love a touch of the whimsical in your life and your clothes. Flowing skirts are perfect for running through fields of flowers with your love, so you make sure to choose a dress with gorgeous movability. The dainty spaghetti straps are perfect for a warm-weather wedding. Your ceremony is outside under the spring sun, at a venue with plenty of florals and rolling fields in the distance.
Featuring Reformation's Florina Dress in Ivory.
The Serres Two Piece Bride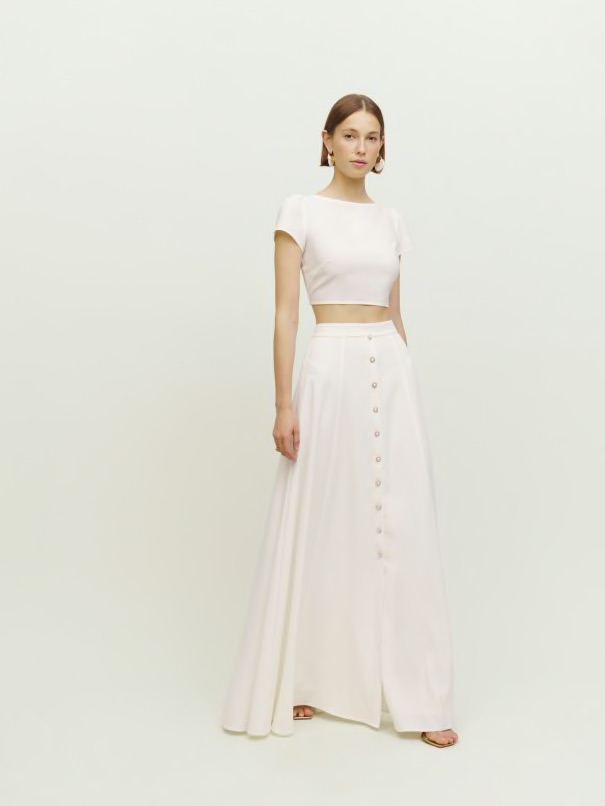 You're not afraid to go against the mold in any area of life, but you don't do it to be edgy; you're simply following your own path whichever way strikes your fancy that day. You showing up to your wedding in a subtle two piece set casts a laidback and unassuming vibe over the ceremony that sets everyone at ease. Your wedding will be a good time, which you celebrate in a fitted crop top and lightweight unlined skirt.
Featuring Reformation's Serres Two Piece in Ivory.
The Chania Bride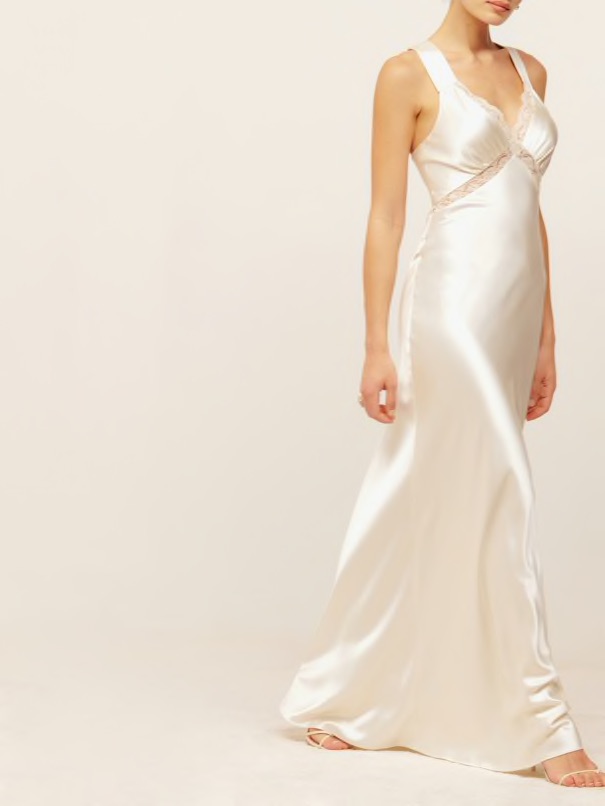 You are an authentically classic soul with glamorous tastes. Your wedding venue draws together upscale vintage pieces and modern lighting to celebrate the theme of eternal love. Your dress, accessories, and decorations have no one apparent era associated with them, which is perfect since you plan to get lost inside the endless time you and your love will have together. A silky slip-style dress with lace detailing and ruching provides timeless charm that matches your theme.
Featuring Reformation's Chania Dress in Ivory.
The Zenni Bride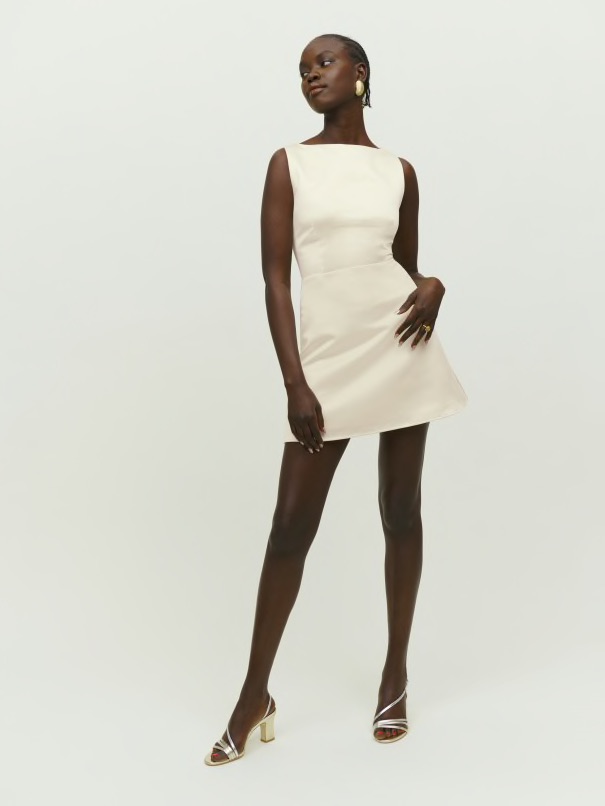 You have a flair for the dramatic, which you like to create through somewhat unconventional statements. Your dress has all the signature charm of a wedding dress, with the smooth satinlike fabric, a high boatneck neckline, and an V-shaped opening at the back, but you make it mini length. The luminous golden tint of your dress makes it ideal for catching rays of sun; your wedding flowers include fresh yellow blooms to match the sunny glow.
Featuring Reformation's Zenni Dress in Pale Yellow.
The Ingrid Bride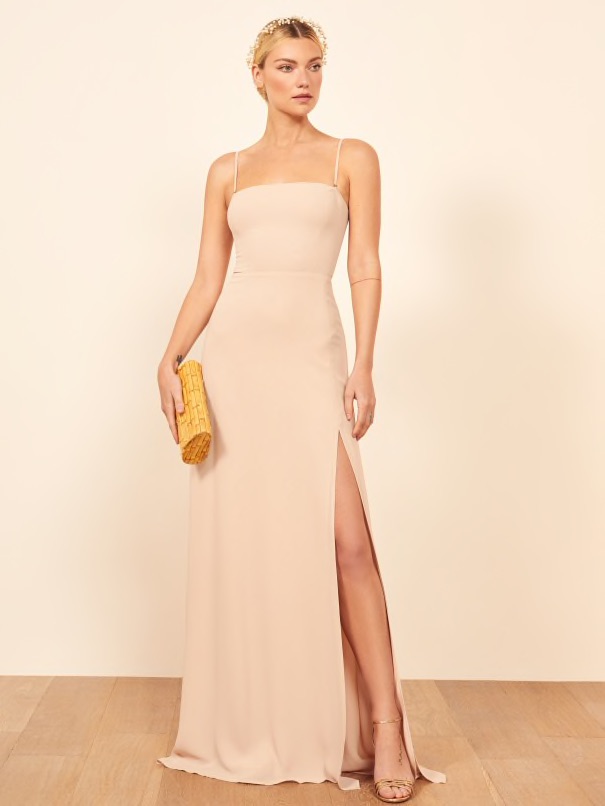 You look at life through rose colored glasses, which means you love all things rosy. You own and wear a lot of pink, so naturally the color will make an appearance on your big day as well. You prefer your favorite color to show up in a sophisticated and understated fashion, however—like wearing a shell-pink wedding dress, pearly pink shoes, rose gold jewelry, and, of course, serving rosé.
Featuring Reformation's Ingrid Dress in Champagne.
The Gabbie Bride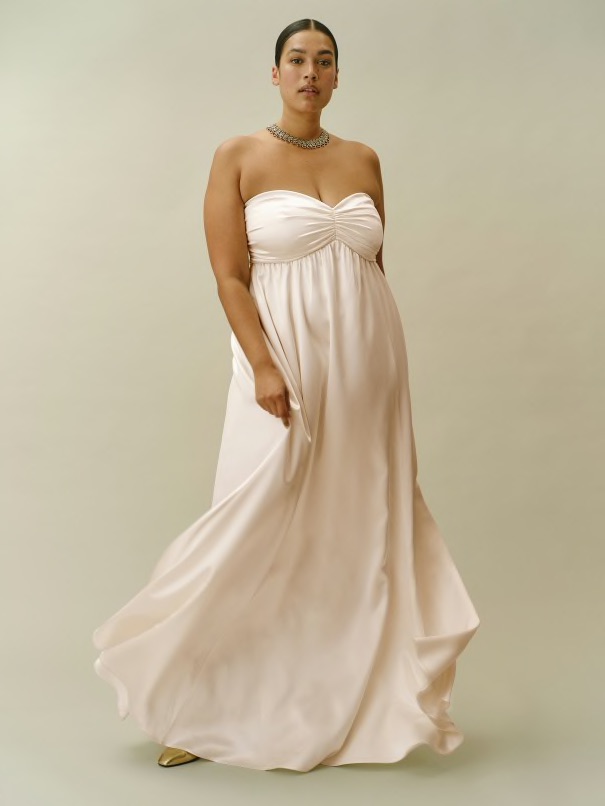 You never miss a chance to flaunt a gorgeous piece of statement jewelry, so your clothes are often wonderfully simple but always well made. There's something so elegant about selecting staple pieces of high quality material, and your wedding matches this theme: refined but subtle. Your dress is a to-die-for, silky, strapless work of art, which you pair with a dramatic choker necklace.
Featuring Reformation's Gabbie Dress in Ivory.
Takeaway
A lot goes into being a bride. You have to consider every detail of your wedding as you decide how to structure your big day. One decision that should be easy is determining what kind of bride you want to be. The way to show it? It's all in the wedding dress. Make a statement in the dress that will escort you into the next chapter of your life.