As a consumer, you should never buy products blindly from any store. Checking the ingredients on the packaging is a good habit and can prevent your skin from chemicals or allergies.
There is no doubt that most companies use synthetic substitutes, additives, or chemicals to lower the manufacturing cost, so checking the ingredients of the products you use is just as important as checking the ingredients of the foods you eat.
The easiest way to protect your skin is to go nature's way and use natural skincare products, products having genuine ingredients. Companies like J'enessence Natural Beauty Therapy are keen on providing their customers with honesty and natural ingredients.
Their natural therapeutic body wash are made from organic coconut and olive oils and infused with natural therapeutic grade essential oils.  Their organic body washes not only work better than mass produced store brands with heavy chemicals, cleanses you well, but are also great for people who have sensitive skins.
Choosing organic, natural, or clean is the hype and it is for a viable reason. The benefits of organic body wash override the cons of commercial products.
Why should you switch to Organic  Washes?
Natural Ingredients
Chemical components such as sulfate and paraben are widely used and responsible to produce lather in body wash and soaps. However, as we all know parabens can cause cancer and having various chemicals may cause skin irritations and even disorders.
These can be avoided by using natural organic body washes. Try using Relief & Heal or our Nourish & Refine Natural Therapeutic Body Wash. It can help nourish your skin deeply.
Effective skin treatment and healing properties
The natural body washes are made with organic and natural active ingredients, directly retrieved from nature and they are super beneficial for your skin. Hence, your body wash can be more than just a cleansing medium but provide a gentle healing experience as well.
Nature-friendly
Body wash or soaps that contain chemicals is also directed to the river or other water systems in the end. It may cause damage to our aquatic system. Thus natural or organic body wash will also help prevent harm from such causes. We often only think of our own health and we're not aware of the impact when we dispose of something.
Antioxidants
Toxic components, foreign elements, and other factors like air pollution and thermal pollution damage our skin. The Detox and Relax Natural Therapeutic Body Wash is made up of natural essential oils such as Lavender, Lemon, and Clary Sage that detoxify and nourish your skin.
It is rich in antioxidants and fights free radicals that damage the cells and causes premature ageing or wrinkles.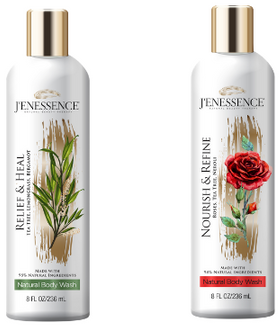 How to choose the right Organic Body Wash?
There are various products in the market that claim to be organic. But their labels can be misleading and it is also important to check the ingredients lists on the packaging of the product to know whether they are what they claim to be. Authentic organic or natural body washes consist of pure or natural ingredients. In addition, the fragrance of an organic or natural body wash should be 100% natural and does not harm our skin.
That is why it is good to choose a natural or organic body wash instead of chemical ones. You need to just make sure that you are buying the right product that suits your skin.
Our Organic Body Wash
J'enessence Natural Beauty Therapy makes products by using plant-based raw ingredients that are proven to benefit human skins. Moreover, these organic ingredients make it one of the nature best to use.
Our body washes come in 4 variants and each is a custom blend or natural active ingredients to treat your skin:
Detox & Relax Natural Therapeutic Body Wash (Lavender, Lemon, Clary Sage)
Nourish & Refine Natural Therapeutic Body Wash (Rose, Neroli, Tea Tree)
Restore & Refresh Natural Therapeutic Body Wash (Eucalyptus, Peppermint, Rosemary)
Relief & Heal Natural Therapeutic Body Wash (Lemongrass, Tea Tree, Bergamot)
All our body washes are made from natural ingredients and are the best for our skins.