Ever went to a hairstylist and came out with a sad face just because your hairstylist told you how dry and coarse your hair look? The excitement of getting a new haircut suddenly goes off and turn into the depression of getting rid of dry and rough hair.
So, when my hairstylist pointed out how dry my hair is, I got shocked as my hair has always been oily. I assumed it is because of the winter that has suddenly changed its condition. After realising that the cold winds and moisture wrenching heaters might have played havoc on my hair, I went on a hunt for a good moisturizing shampoo that can work brilliantly on my fine as well as oily hair.
It is when the Nexxus therappe shampoo caught my attention and I picked a good amount bottle after reading its ingredients and benefits. I genuinely felt it is the one that can save my hair from getting further dry and harsh. The shampoo claims to restore and maintain vital moisturization in the hair while leaving the hair touchably soft with a healthy and vibrant look. Further, it also helps to give your hair a salon-worthy performance and advanced moisturization, especially to dry and coarse hair. so, when I saw the word especially for moisturizing dry and rough hair, I immediately went for the products and picked the huge bottle.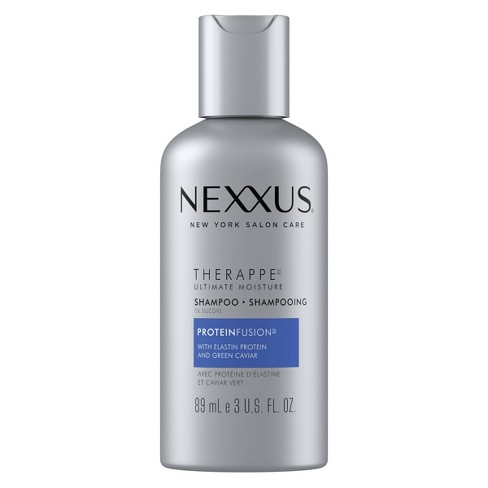 Now ingredients are the one that always makes me truly understand if the particular product will suit my hair or not. As I mentioned earlier, my hair was in between dryness and oily texture. Thus, I always look for the ingredients of the hair products. The Nexxus therappe shampoo includes the formulation of rosemary, camomile and nettle which makes quite a good composition that can transform the condition of the hair. therefore, I chose to give a try to this shampoo as it gently cleanses the hair to give your completely nourished, healthy and softer looking hair.
The shampoo cost me 20 dollars for a 44oz bottle and it was pretty simple to use just like any other regular shampoo. So, I started applying it the day I bought it into my damp hair. I massaged it carefully and thoroughly on my entire hair. As I have a bit longer hair, I required to take it twice in my palm so that my whole hair will be covered in it. I massaged it into the hair and scalp completely and nicely. Then I rinsed it using lukewarm water followed by my regular hair conditioner.
Now I am writing Nexxus therappe shampoo review after using it for 2 months as I didn't want my review to look fake or not honest. So here it is, the shampoo comes in a tall cylindrical pump dispenser with a sturdy bottle and smooth pump.
I have been using the shampoo for over 2 months and honestly, I am loving every bit of it from how soft it makes my hair to its wonderful fragrance. The Nexxus therappe shampoo is white in colour and has the perfect consistency for a shampoo while coming with a pleasant flowery coconut fragrance. For cleaning my oily hair (I often put oil in my hair before shampooing) I required only a little quantity of shampoo to evenly apply it all over the mane and cleansing it thoroughly.
Now, I have to no longer worry about the dryness and roughness prevailing in my hair with the best Nexxus therappe shampoo. Further, you can consider this Nexxus therappe shampoo review as an honest review and surely go for it. People with normal/dry hair can easily enjoy shampoo throughout the year.