The time when you could just put on mom's beads and feel beautiful ended when you were 9 and since then it keeps getting more complicated. Without a doubt, the jewelry was invented to add beauty, but along with it were invented the rules of wearing it. Though the general attitude towards rules is mostly negative, especially to those "ridiculous" fashion ones, but when getting into the reasons behind them, you understand that they were made to help us look better, hiding or minimizing our disadvantages and highlighting our best sides. So if we start considering the rules of wearing jewelry not as restrictions but as tips that will help us improve our looks, it may help.
Neckline
Let's start with one of the defining features of the whole image – the neckline. It influences the choice of the jewelry considerably.
V-shaped necklines provide a great variety of options considering jewelry. The length of necklace may vary from short chokers with vivid accents on center elements to the long chains with pendants descending even lower the neckline. Prolonged thin earrings suit this neckline as they visually continue straight lines.
Deep oval prefers chokers and necklaces which repeat the shape of the neckline itself.
Oval goes well with chokers and beads of any length and with pieces that have strong accent on central elements.
Square combines with minimalistic pendants and intricate earrings.
Asymmetric can be combined with earrings of unusual or complicated design, but the bijouterie in the neckline area would make the image too heavy.
Turtlenecks prefer beads and chains of considerable length tied in a knot or with pendants and completed by shiny earrings. Classic wide flat necklaces will also fit perfectly.
Collar of a shirt or a blouse creates a harmonious image with a V-shaped necklace or a chain of middle or extended length. Pearls are considered classics in this combination. If you wear a vest together with a shirt, you can finish the look with a nice brooch to add feminine vibes, but NEVER put on a necklace if you already chose a brooch! It is also a bad idea to mix ornate collars with massive beads.
Stand collar has little options. It may be combined with a charming choker.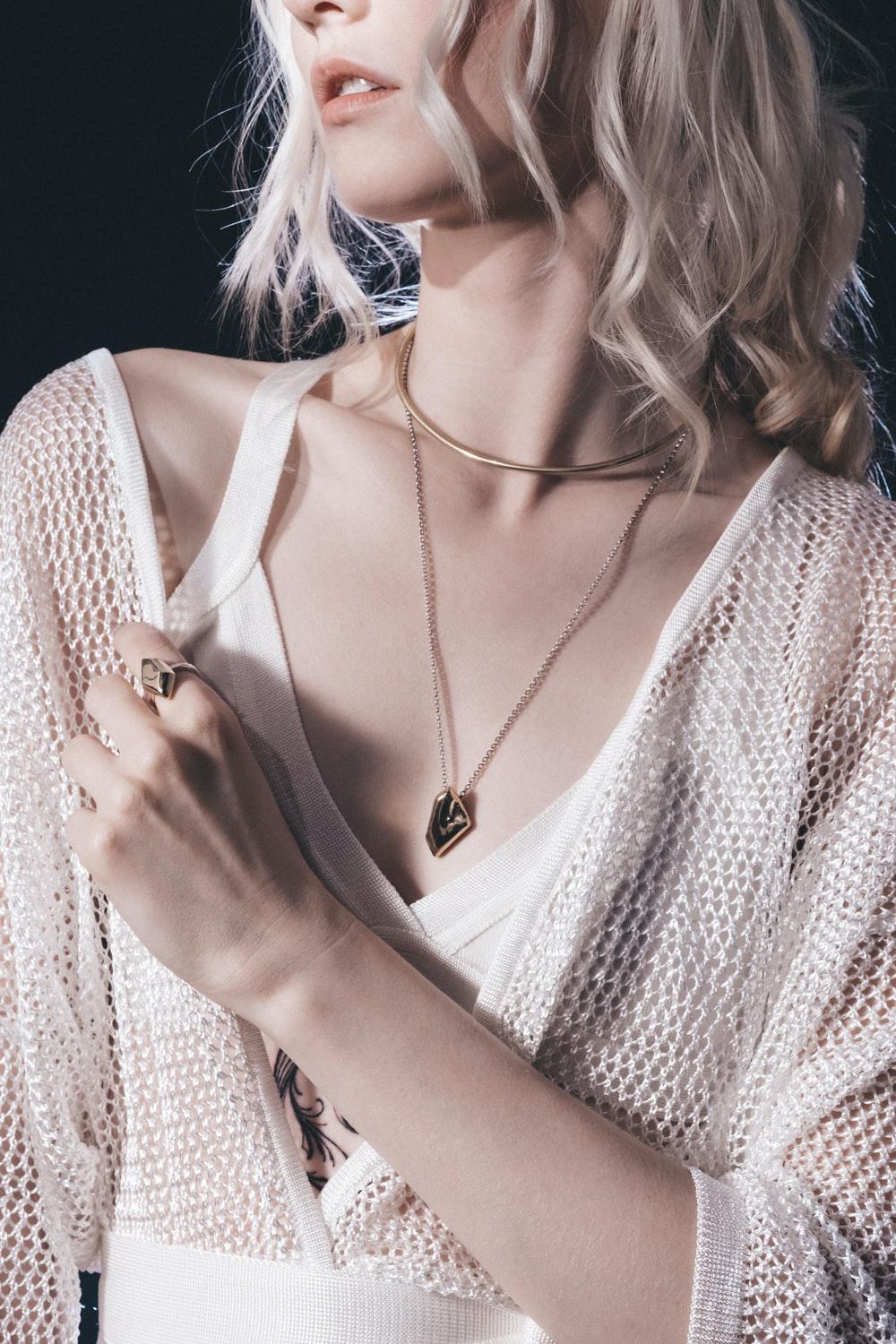 Fabrics and styles
To combine outfits and jewelry in a right way you should also consider such components as fabrics of the clothes and materials of the jewelry, style of the outfit, patterns and colors. Let's analyze what goes well together and what you should avoid in your images.
Thick wool turtleneck sweater won't match massive pyramid earrings making the look too heavy.
Clothes with vivid patterns won't look good with massive pearls.
Outfits of luxurious fabrics like velvet and brocade shouldn't be worn together with precious stones as it would create the image of the chest's insides.
Consider the purpose of the outfit and the place you're going to wear it to. Office looks should be completed by the simple, almost invisible jewelry. Bright and massive bijouterie is allowed at a party or on a date. Evening gown will never look good with low-cost bijouterie of plastic, the same as business suit hates large colorful rings and bracelets.
The best option is to play on contrast: plain clothes with intricate jewelry, or exquisite outfit with simple items.
In terms of matching colors there are also two variants: to pick the jewelry in the same color spectrum as the clothes or, the more popular combination, to opt for a contrast again, like black dress and yellow gold.
The sleeveless dress or a top can be finished by a choker.
The combinations of jewelry
Not only clothes should be considered while choosing jewelry, you have to carefully pick each item and make them create a harmonious ensemble. We already mentioned one strict rule of the jewelry combinations, and we'll start the list with it to add some more:
Never put on a necklace together with a brooch! It creates the overweight image in the area, plus your necklace can be caught on the brooch.
The golden rule for jewelry is the rule of 3. Wear no more than 3 types of jewelry at once and don't forget that at least one of them shouldn't be by the face. The classic combinations are: bracelet + earrings + rings; earrings + necklace + bracelet; watch + earrings + brooch; And remember the classic NOT: necklace + brooch + earrings; watch + bracelet + ring; bracelet (watch) + 2 rings.
If you want to make an accent on a specific item, you shouldn't wear other jewelry, let the queen of the ball remain the queen.
Intricate or long massive earrings go well together with high hairdo, but then you should avoid large beads and necklaces in this area.
Choose the items of the same materials and styles. Remember that different colors of gold work only in one jewelry piece, as in Cartier Trinity ring, they will never match as the separate items. Yellow gold chain + rose gold bracelet + white gold ring will make the image heavy and cheap. The same goes for the style: the massive boho bracelet won't fit with an elegant delicate ring; better pick a massive necklace with the bracelet of the type, or delicate gold earrings in combination with thin gold chain and a classic pendant.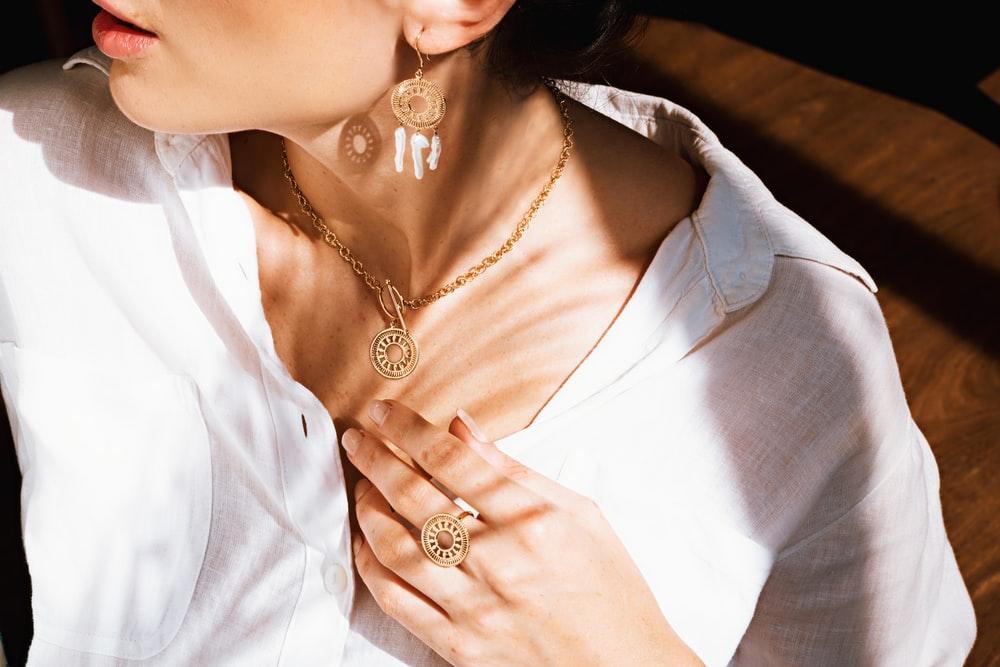 Another strict rule refers to diamonds. They should never be combined with other stones. Diamonds should be worn only with diamonds. So real diamond chains will go together with the bracelets alike or a chic diamond ring. Other white stones can be combined with different colors but don't overdo it. Red gems also can go only with the same red spectrum. Green group of stones look good both alone or mixed with yellow or white. Yellow can also be combined with a lot of shades, except for blue and purple. Another bad mixture is black, dark blue and purple – they look too dark and gloomy together.
Also, you need to consider the cut of the gems. Try to choose your jewelry with matching diamond shapes. It's not a rule, more of a tip, but such ensemble will make the look more elegant.
Face shapes and body features
Being aware of the advantages and disadvantages of your appearance you can learn how to make them less or more visible with the help of jewelry. Let's start with the face types:
The lucky owners of an oval face can wear everything without restrictions. Every item looks good on them, while there are not too many.
Ladies with round face shape should opt for earrings that visually lengthen it and avoid spherical and "Congo" designs. V-shaped neckline and extended chain also help to visually stretch the face and make it seem thinner.
If, on contrary, your face is too long, pick circular shaped jewelry and items that are shorter and wider.
For the square shape of the face it is preferably to select oval or circular shaped earrings or the ones with thin prolonged designs. It is not wise to select items with sharp angles.
With the triangular shape of the face you should consider asymmetric earrings – wider at the top and narrowing to the bottom.
If you possess a double chin or a rather thick neck, don't pick short pearl necklaces. Try to combine a dress or a turtleneck with long earrings or a maxi length chain with triangular or rectangular pendant.
If your neck is long, use short or mid-length round beads and avoid long chains which can visually stretch it even more.
Dark skin and hair like yellow gold earrings, while fair skin and hair prefer silver or white gold. Charming items of rose gold do not suit everyone as they can merge with pale skin complexions.
Note that it's better to decide on jewelry according to your constitution, as delicate minimalistic items look ridiculous on curvaceous ladies, the same as massive bijouterie on tender slim girls.
And if you want to make accent on hands, remember that it's not a good idea to wear large rings with poorly done manicure, scratches on hands or plump fingers. Simple thin round bracelets help to make wrists visually slender.
It's hard to remember and strictly follow all the rules, but the main thing you should keep in mind is that in terms of jewelry "less" is better than "too much". And to understand all those rules better, you may take your jewelry box, get in front of the mirror and try those tips on yourself. You'll understand and remember everything better when you see it.