It is necessary to provide your skin with moisture and radiance time to time to maintain its beauty and condition. So, you need to have the best skin moisturizing and dark spots reducing treatment with you that can simply help you remove those unwanted spots and brighten your skin. Thus, here I have brought you one of the strongest and most effective solutions namely Esoterica fade cream review.
The Esoterica fade cream help to gently moisturise the skin to give you healthier and more radiant looking skin. The cream claim to lightens dark areas of your skin to make your complexion more even. The formula is extremely lightweight and non-greasy that makes it easy to apply and last longer on the skin surface to work its best. On the other hand, this luxurious fade and skin lightening cream gradually lightens dark areas of the skin and give you even complexion.
Read: Makari Skin Lightening Cream: How Does It Work?
In addition to this, the Esoterica fade cream contains a sunscreen that is rated at SPF 10 which further help to prevent darkening form reoccurring. The active ingredients of the Esoterica fade cream include hydroquinone. This gradually and effectively reduces skin problems like dark areas, blemishes, freckles and spots. It often occurs from age, pregnancy and sometimes with the use of oral contraceptives. Also, it can be applied on all over your body including on all parts of your face, neck, cheeks, arms hands and legs. Further, the cream becomes extremely handy especially during the months of summer if you love to tan, spend some good time at beach or play with sports.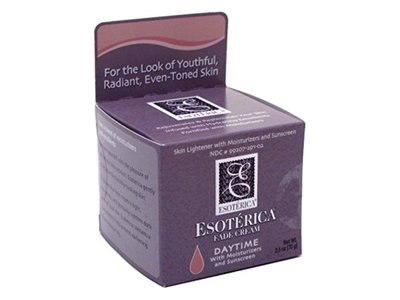 I am writing Esoterica fade cream review after two months of the use of this brilliant skin product. Now I am writing this review just to help you know more about the benefits, side effects and other things of the cream.
Read: Missha Eye Painting Shadow – Review
Following are some of the most amazing benefits of the cream that will help you to know more about the product and its effects on the skin.
Give amazingly youthful radiant and even-toned skin
Effectively lightens the dark areas of the skin
Works as a skin lightener coming with moisturizers and sunscreen
Uses a blend of emollients and moisturizers
Rejuvenates and replenishes your skin with its brilliant formulation
Cen be applied on full face and full body
Uses purified water and other many useful ingredients
The Esoterica fade cream contains sunscreen that is rated at SPF 10
The Esoterica fade cream cost me 19.73 dollars which seemed pretty fine to me according to other premium face and body creams. Further, it came with many beneficial claims as to the best body and face cream so I was fine to at least try it for the first time. On the other hand, it was a pretty amazing solution that came in the two-in-one formula so I wouldn't have to buy two different creams for face and body. As it is applicable to both face and body, it was easy for me to choose this cream as my daily face and body routine.
The cream was simple to use and came with the instruction to use it as it was only for adults and not for children. I started by applying a small amount of the cream as a thin layer on the affected area twice daily. The cream claims to give the result in 3 months of continuous use. I am currently on my 2nd month with the Esoterica fade cream and have started seeing an amazing result. The blemishes and dark spots of the skin have started reducing and I use this cream twice daily. So, if you are still just considering or thinking to purchase it, then you should do it right away.